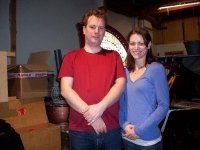 Mánukvöldið 16. nóvember mun tvíeykið Duo Harpverk sem samanstendur af hörpuleikaranum Katie Buckley og slagverksleikaranum Frank Aarnink flytja verk eftir SLÁTUR meðlimi auk óbreyttra tónskálda, inn- og erlendra, lifandi og látinna.
Eins og segir á facebook síðu Harpverks:
Rosenberg goes Classic.
Or Harpverk goes Jazz?

New pieces by Karen Heath(Australia),Jesper Pedersen(Ísland?)and Guðmundur Steinn(litla Steini)
And lots of old pieces by:
Oliver,Anna,Daniel,Bára,Jónas,Jenny,Piazzolla.

500 kall sedill til að komast inn!