«Musical Playground»
Voyage sonore pour les enfants à travers la Philharmonie / Kannerklangrees duerch d'Philharmonie
19.11.2017 11:00 & 15:00, 
Grand Foyer
 add to calendar
S.L.Á.T.U.R
Áki Ásgeirsson, Jesper Pedersen, Páll Ivan frá Eiðumperformance, conception, composition
Ensemble Adapter
Elsa Rauchs comédie
S.L.Á.T.U.R.: Musical Playground
11:00 (L) & 15:00 (F)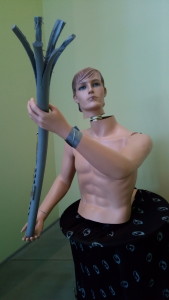 In the interactive performance Musical Playground, the Philharmonie is transformed into an adventure for children aged 6 to 12. The three Icelandic composers of the S.L.Á.T.U.R. collective and Ensemble Adapter invite children on an imaginative sound journey, where they become performers themselves as the foyer turns into a stage for musical robots, a Punch and Judy show, or a cactus concert. For all curious children with open ears, Musical Playground is a chance to explore unfamiliar sounds in a creative and playful way while experiencing the architecture of the Philharmonie from a new perspective.
Dans le cadre de « how does it feel? − rainy days 2017»