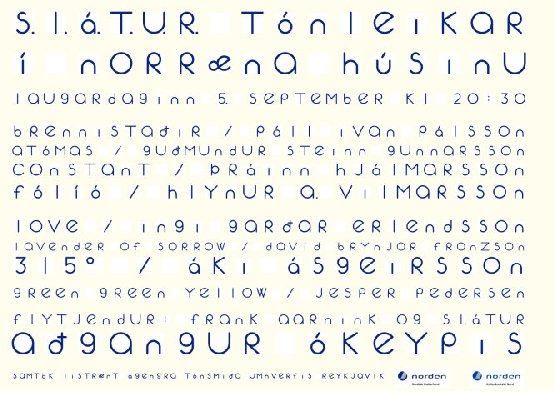 Laugardaginn 5. september lýkur S.L.Á.T.U.R (Samtök listrænt ágengra tónsmiða umhverfis Reykjavík) tónleikaferð sinni um Norðurlöndin með tónleikum hér á landi í Norræna húsinu í Reykjavík, tónleikarnir hefjast kl.20:30.
Flutt verða 8 verk eftir jafnmörg tónskáld, flytjendur verkanna eru nokkrir
meðlimir samtakanna auk slagverksleikarans Frank Aarnink. Verkin á
tónleikunum voru sérstaklega samin fyrir þessa ferð samtakanna sem hófst í
lok júlí, haldnir hafa verið 5 tónleikar í Noregi, Danmörku og Svíþjóð, og
eru tónleikarnir í Norræna húsinu lokahnykkurinn á ferðalaginu.
Flutt verða verk eftir Áka Ásgeirsson, Davíð Brynjar Franzson, Guðmund Stein
Gunnarsson, Hlyn A. Vilmarsson, Inga Garðar Erlendsson, Jesper Pedersen, Pál
Ivan Pálsson og Þráin Hjálmarsson.
AÐGANGUR ÓKEYPIS!
S.L.Á.T.U.R Concert at the Nordic House
The Last concert in S.L.Á.T.U.R-Nordic-Tour will take place in the Nordic
House in Reykjavík, Saturday 5th of september at 20:30 pm.
8 pieces have been composed especially for this S.L.Á.T.U.R Nordic tour and
will be performed by some members of S.L.Á.T.U.R and the percussionist Frank
Aarnink.
The Tour has included performances in Norway, Finland and Danmark.
FREE ENTRANCE!