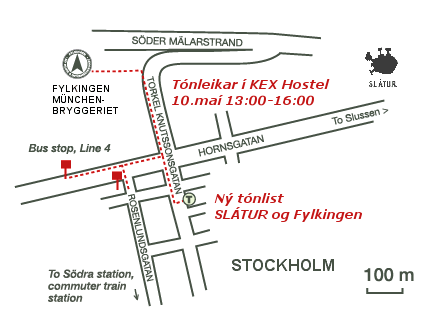 Tónleikar í KEX Hostel, sunnudaginn 10. maí klukkan 13:00 – 16:00.
Meðlimir S.L.Á.T.U.R. leika eigin verk ásamt góðum gestum úr Austurvegi, þeim Katt Hernandez, Gus Loxbo, Maríu Horn og Mats Erlandsson sem tilheyra sænsku tilraunatónlistarsamtökunum Fylkingen.
Dagskráin er hluti af fjölskyldudagskrá KEX og eru börn sérstaklega velkomin.
Fylkingen is a venue and artists' society for new and experimental work in music, performance, video, film, dance, sound-text composition and intermedia. Since its establishment in the 1930s, Fylkingen hasbeen committed to experimental work in the contemporary performing arts. The organisation is made up of over 250 member artists from many disciplines who use the venue to develop and present new work.
KATT HERNANDEZ
Katt Hernandez moved to Stockholm in 2010. She sits on the board of F.R.I.M., works as an assistant producer at Fylkingen and recently earned a Masters degree in electroacoustic composition from Kungliga Musik Högskolan (the Royal Music Academy of Sweden). This year she'll start her PHD's in Lund, Sweden.
Katt is a 13 year veteran of the new, improvised and experimental music scenes in Boston, Philadelphia, Baltimore, and New York, both as a performer and an organizer. She has performed and recorded with a vast array of musicians, dancers, visual artists, film makers and performance artists in venues ranging from underground urban art spaces to ivy league concert halls.
Focused primarily on freely improvised music, Katt draws a firey array of electronic-like sounds and keening melodies from her unaltered, acoustic violin. She also works extensively with microtonality, drawn from a study of a mixture of sources, including traditional folk and sacred musics of the Middle East, Turkey, and Eastern Europe and variated odd-ball old Americana.
https://soundcloud.com/katthernandez
GUS LOXBO
Swedish doublebassist and sawplayer Gus Loxbo has developed a playing that uses the sound approach from eam to create soundscapes on an acoustic instrument. Studied in Reykjavik academy of the arts for Ulfar ingi haraldsson.
https://soundcloud.com/gusloxbo
MARIA W HORN
Maria w Horn is a composer and a producer focusing on electronic music and experimental film. Much of her work can be described as audio-visual as she often incorporates sound, video and light. After studies in electroacoustic composition at the Royal College of Music in Stockholm and Universität der Kunst in Berlin she is now based in Stockholm, where she is an active part of Fylkingen as a member of the production gorup. She is also part of Stockholm drone Society, an association that works to promote slow and gradually evolving timbral music, also called drone.
"Destruction and ingenuity melts and patters together in the rhythmical burning of film, in clouds of smoke from the early rocket launches and in analog distortion of digital technology."
Nutida Musik, april 2014
https://soundcloud.com/mariahorn
MATS ERLANDSSON
Mats Erlandsson is a composer of electronic music working with both fixed media and live-electronics. In addition to composing he also works as a sound- and studio engineer at EMS in Stockholm.